This post may contain affiliate links which means we might earn a small commission if you decide to make a purchase through them (at no extra cost to you). Need more info? Click Here
Bathroom sconces are simple but brilliant lighting features that provide extra light and ambiance to your bathroom. They not only add a little bit of character to your bathroom, but they are also incredibly stylish. They come in a variety of shapes, sizes, and styles, which can add a unique touch to any bathroom. Because they are often placed near the bathroom mirrors, they are an excellent option if you need extra light around your mirrors. If you need ideas on where to get started, we have got you covered!
What Are Bathroom Sconces?
Bathroom sconces are simply wall-mounted light fittings or bathroom vanity lights. They were originally used to provide light in hallways or other dark areas, but have since evolved into a fixture that can be used to provide extra light in bathrooms. In the past year or so, bathroom sconces have become really popular as a way to add ambiance to a bathroom, and with styles ranging from traditional to modern, bathroom sconces are a great way to add style, function, and flair to your bathroom.
Cage-Style Black Bathroom Sconces
Cage-style sconces are a great option if you would like to add a bit of contrast to your bathroom design. These sconces have an industrial feel to them, and their black finish blends in well with most color palettes. This bathroom sconce style can be quite modern but can also bring a vintage feel to your bathroom depending on how you use them. They are a great option if you would like to add sconces above the mirrors.
Ideas for Cage-Style Black Bathroom Sconces
Gold Bathroom Sconces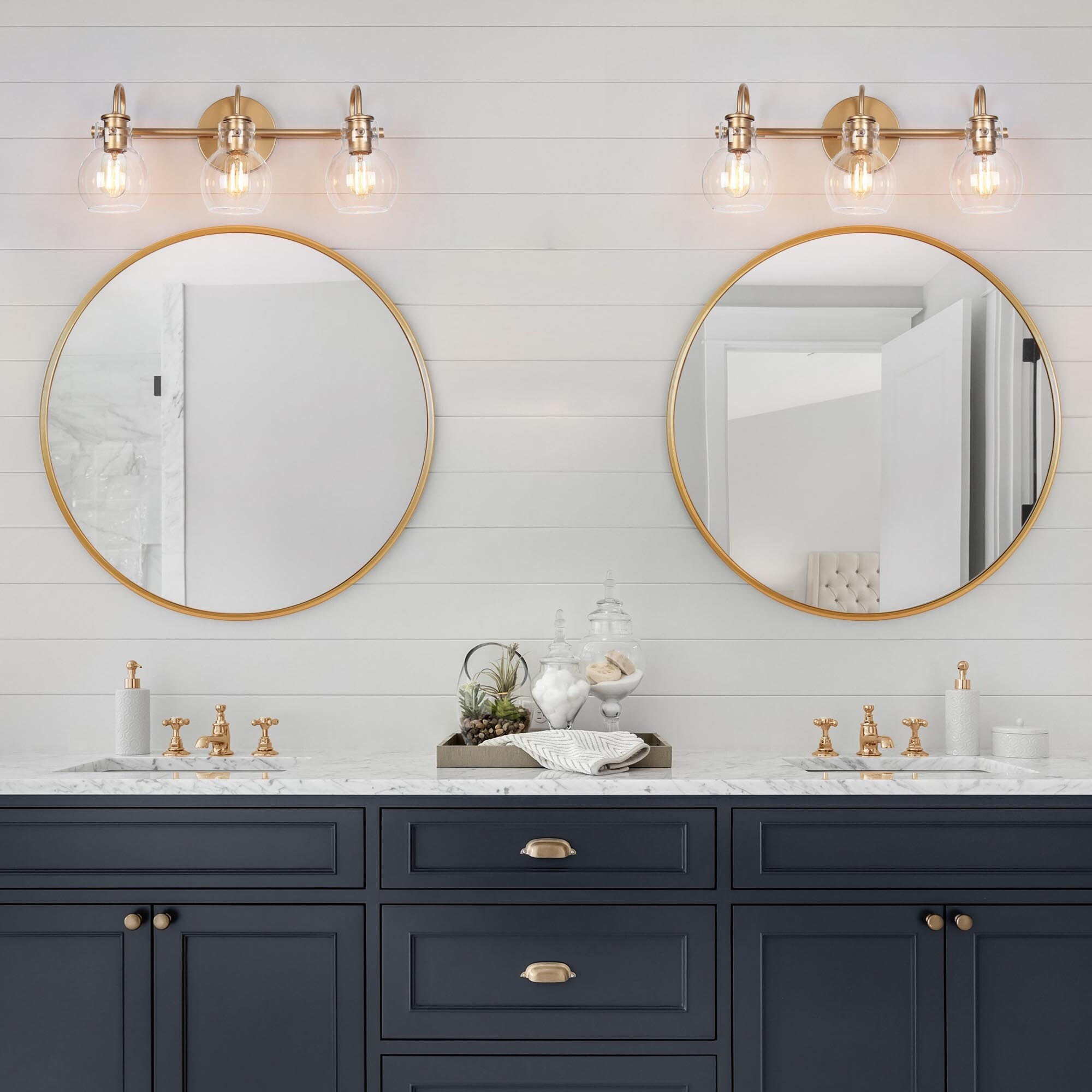 Gold sconces are a great addition to any bathroom design where you would like to add gold accents to the design. Gold sconces can bring an aire of elegance and old-school charm to any bathroom. Pair these sconces with gold mirror frames and you have a winning combination!
Ideas for Gold Bathroom Sconces
Pin for when you need more ideas for bathroom sconces!
Modern Vertical Bathroom Sconces
Nothing says modern and sleek quite like tall, vertical bathroom sconces! These sconces are perfect for even a very small bathroom where space is limited. They are a great option for bathroom vanity lights and can be placed either to the right or left of the mirror, or above if you would prefer. If you love the look of the design in this photo, check out our article on grey bathroom designs and what colors go well with gray.
Ideas for Modern Vertical Bathroom Sconces
Bathroom Sconces With Shades
Sconces with shades have always been popular for other areas of the home but they work just as well in the bathroom. They work particularly well when they are installed to the left and the right of the bathroom mirror and are a good choice if you are working on a budget.
Ideas for Bathroom Sconces with Shades
Vintage Bathroom Scones
There is something so charming about a vintage bathroom! The vintage look is all about bringing together pieces that are unique and have character, and that's what makes it so great for bathrooms. Vintage bathroom sconces are the perfect addition to any design especially when combined with a clawfoot bath or vintage mirror. Add a little vintage ambience to your bathroom with these unique bathroom sconces!
Ideas for Vintage Bathroom Sconces
Hanging Bathroom Sconces / Pendant Bathroom Lights
Hanging bathroom sconces hang from the ceiling and provide extra light in the bathroom without taking up too much space. They come in a variety of styles, from old-fashioned chandeliers to modern pendants. Pendant lights can be hung symmetrically on either side of the mirror or they can be hung together in groups depending on what design you are going for.
Ideas for Hanging Bathroom Sconces
Unusual Bathroom Sconces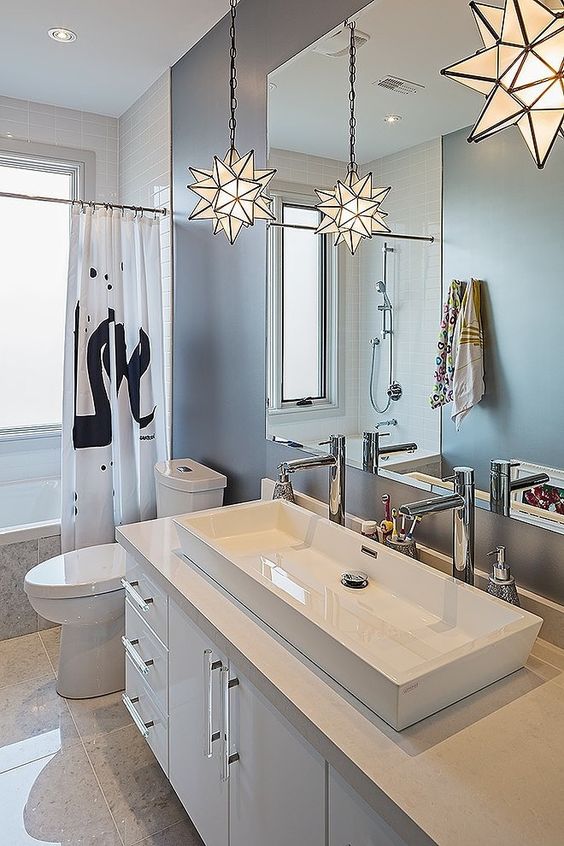 Sometimes you want lighting fittings that are as unique as you are! There are some great options out there for anyone who is looking for bathroom lights that are a little bit more special and unusual. These sconces often become the focal point in the bathroom.
Ideas for Unusual Bathroom Sconces
Conclusion
Bathroom sconces are a wonderful addition to any bathroom, including kid's bathrooms! They are not only beautiful, but they are also functional—they bring extra light into the bathroom around the mirrors, which is important if you like to apply makeup, style your hair, or shave. You are spoilt for choice when it comes to style, color, and design, so you are sure to find something that suits you! I hope our article has helped you with ideas!