Coloring is a great way for kids to develop their artistic expression. It is also a fun activity that helps improve fine motor skills and hand-eye coordination. Many studies show that coloring directly increases brain activity, which helps with memory, focus, and even motor skills. So why not use these brain-boosting activities to help your child learn the alphabet?
We are super excited to bring you a collection of alphabet coloring pages and worksheets for you and your kids! They are perfect for preschoolers, kindergarten, and kids in first grade. We've created our own collection of ABC coloring pages to help your kids recognize and learn each letter of the alphabet. These printable coloring pages and coloring sheets are free and easy to download and print, so why not give them a try!
The letter "A" is obviously the first letter in our collection! Because starting at the beginning is a very good place to start 🙂
Each letter "A" coloring page has the letter A in both upper and lower case. It also shows a word that starts with the letter A, as well as letter tracing exercises so that your kids can practice writing the letters themselves. This adds to the fun and helps to build confidence and self-esteem as letter recognition becomes easier.
While learning these valuable reading skills, your kids will have a blast coloring them in. But why stop at coloring? Use stickers to decorate the coloring pages. Cut pictures of other letter "A" words out of magazines and stick them onto the coloring sheets. Getting creative can make learning just that much more fun! So get your child started on these alphabet coloring pages and have fun!
Letter A Coloring Pages & Worksheets Included In This Bundle
If your kids enjoy these letter A coloring pages, please share the love by saving them to your kid's activity board on Pinterest 🙂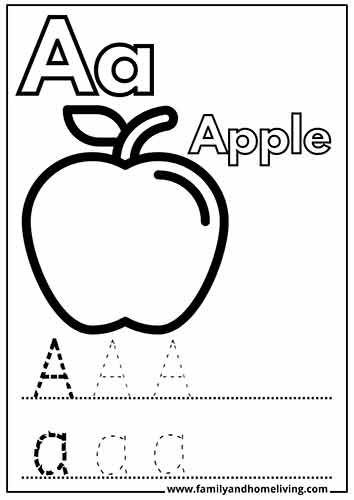 How To Download The Letter A Coloring Pages
To download the Letter A coloring worksheet bundle, click the button below. When you click the button, the coloring pages will open in a new tab. Alternatively, you can right-click on the button and choose "Save as…" to save a copy to your PC.
Conclusion
Teaching your kids to recognize the letter A can be fun when you use coloring pages and worksheets! And we hope that you enjoy using our collection of 15 free printable PDF coloring pages for the letter A.
Don't forget to check out our other free coloring pictures and pages (including free Christmas and Halloween coloring books.