Is your child learning their ABCs? We all know that kids learn best through play and fun activities, so including alphabet coloring pages in their educational routine can be a great way to help them learn the alphabet easily. Today, we will be looking at the letter G!
Sometimes you will find that learning the letter G can be a little tricky for young kids to learn. Especially because the lowercase G kind of looks like the lowercase letter A but with a tail! We created these printable coloring sheets especially to help your kids learn to associate the letter G with everyday objects that they see around them all the time.
Each G-letter coloring sheet shows both the uppercase and lowercase letter G along with a picture of an object that begins with G. We've also included an area where kids can practice tracing and writing the letters themselves.
There are also two coloring worksheets for kids to enjoy! For the first worksheet, kids need to find and color each G-letter that they see. For the second worksheet, kids need to match up pictures that begin with G with the corresponding words. Don't worry though! Each picture and word has already been included within the coloring bundle, so they should be able to recognize the pictures and words easily.
Help your kids master recognizing and writing the letter G with our printable alphabet coloring pages and worksheets that can be downloaded in PDF format.
Letter G Coloring Pages & Worksheets Included In This Bundle
If your kids enjoy these free printable letter G coloring pages, please share the love by pinning them to Pinterest 🙂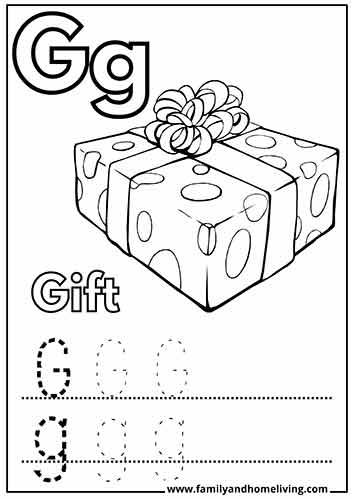 How To Download The Letter G Coloring Sheets
To download the printable letter G coloring pages bundle, click the button below. When you click the button, the coloring pages will open in a new tab. Alternatively, you can right-click on the button and choose "Save as…" to save a copy to your PC.
Conclusion
We hope your kids enjoy using these letter G coloring pages as much as we enjoyed creating them for you! We've also created some other easy coloring pages and coloring books that are perfect for preschoolers don't forget to check those out as well!