Learning to recognize the alphabet is a crucial part of learning and early childhood education. It's also lots of fun, especially if you combine learning with an awesome activity like coloring. So today we are going to be looking at learning the letter E! These worksheets and coloring pages are perfect for preschoolers who are learning their ABCs.
E-letter coloring pages are not only a great way to keep kids entertained for hours, but they also teach kids how to easily identify the letter E. These printable coloring pages are free to download, so all you need is some colored crayons, pencils, and koki pens to get started. You can also use stickers to decorate the pages or even cut out other E-letter words and pictures from magazines.
As with our other alphabet coloring pages, each letter E coloring page shows kids what the uppercase and lowercase letter E look like. They also each have a picture of something that begins with E. There is also a place at the bottom of the page where kids can practice tracing both the uppercase and lowercase E before trying to write the letters themselves.
We've also included two E letter worksheets in the bundle where kids can learn to identify the letter E alongside other letters of the alphabet as well as match letter E words with pictures that have already been used within the bundle itself.
Letter E Coloring Pages & Worksheets Included In This Bundle
Do you find these printable Letter E coloring pages helpful? If so, please share the love by saving them to one of your kid's boards on Pinterest 🙂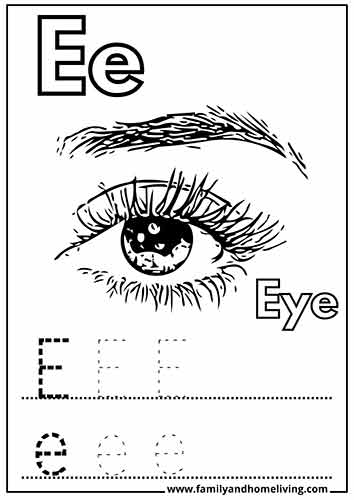 How To Download The Letter E Coloring Worksheets
To download the Letter E coloring pages bundle, please click the button below. The worksheets will open in a new tab. Alternatively, you can right-click on the button and choose "Save as…" to save a copy to your PC.
Conclusion
We hope you and your kids enjoy coloring our Letter E coloring pages! We will be adding more coloring pages and coloring books to our collection, so let us know if you like them and find them useful so we know what to create next.