If you're looking to update your bathroom, then you may have considered a black and gray color scheme. While black and gray bathrooms may seem like a pretty straightforward color choice, there are tons of options to consider before getting started.
Special thought must however be given to how dark the bathroom will be. If you add too much black, then you could end up with a very dark bathroom that could need extra lighting. Luckily, both black and gray also pair well with other colors, so if you want to add a splash of accent color to your bathroom design, then you can't go wrong, especially with white as an accent color. If you would like to combine your gray scheme with other colors, then check out "What Colors Go Well In A Gray Bathroom? 13 Gray Bathroom Ideas To Inspire You!"
Let's take a look at some ideas for black and gray bathrooms that will hopefully give you inspiration and ideas to get started.
Shades of Gray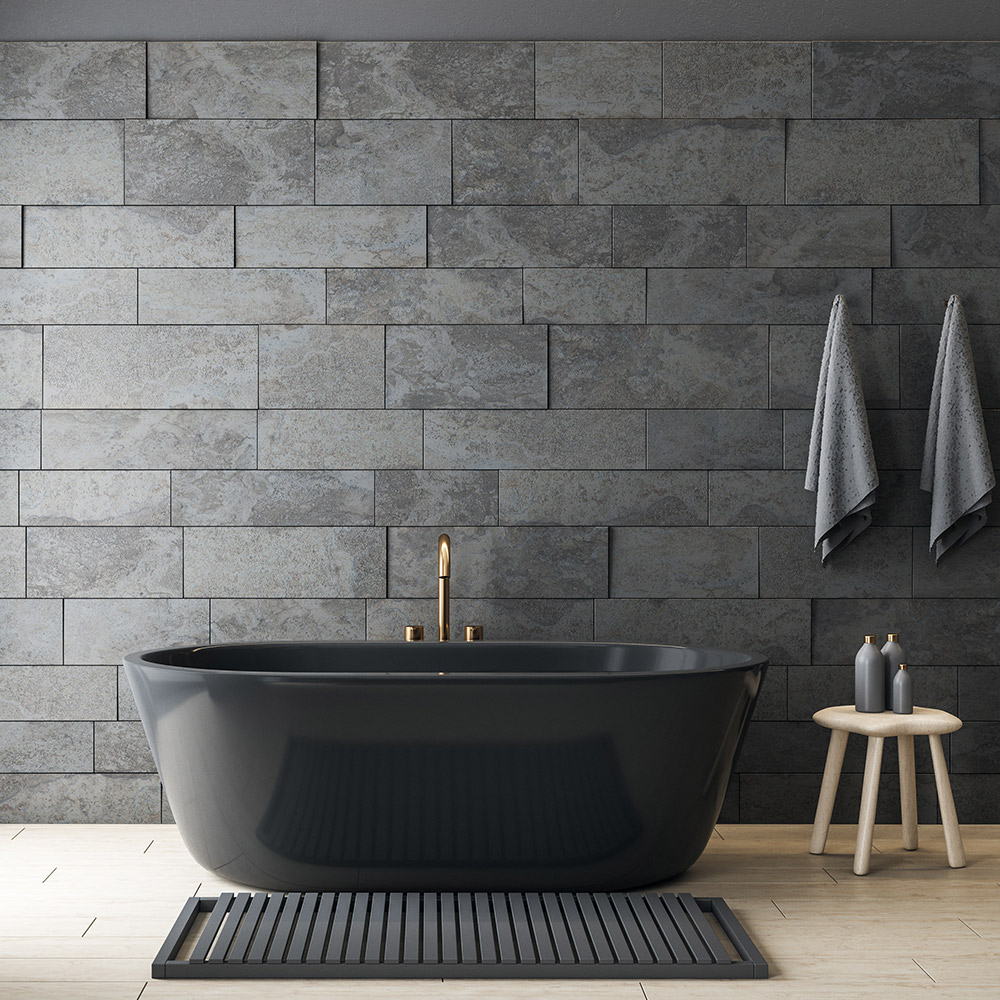 This gorgeous bathroom design perfectly showcases how well black and gray can work together! The black bathtub is beautiful, especially when it is paired with the gray stone wall tiles. The light-colored floor tiles and stool bring a lighter contrast to the design so that it isn't too dark. Copper taps and gray towels round out the design perfectly!
Cottage Pane Shower Screen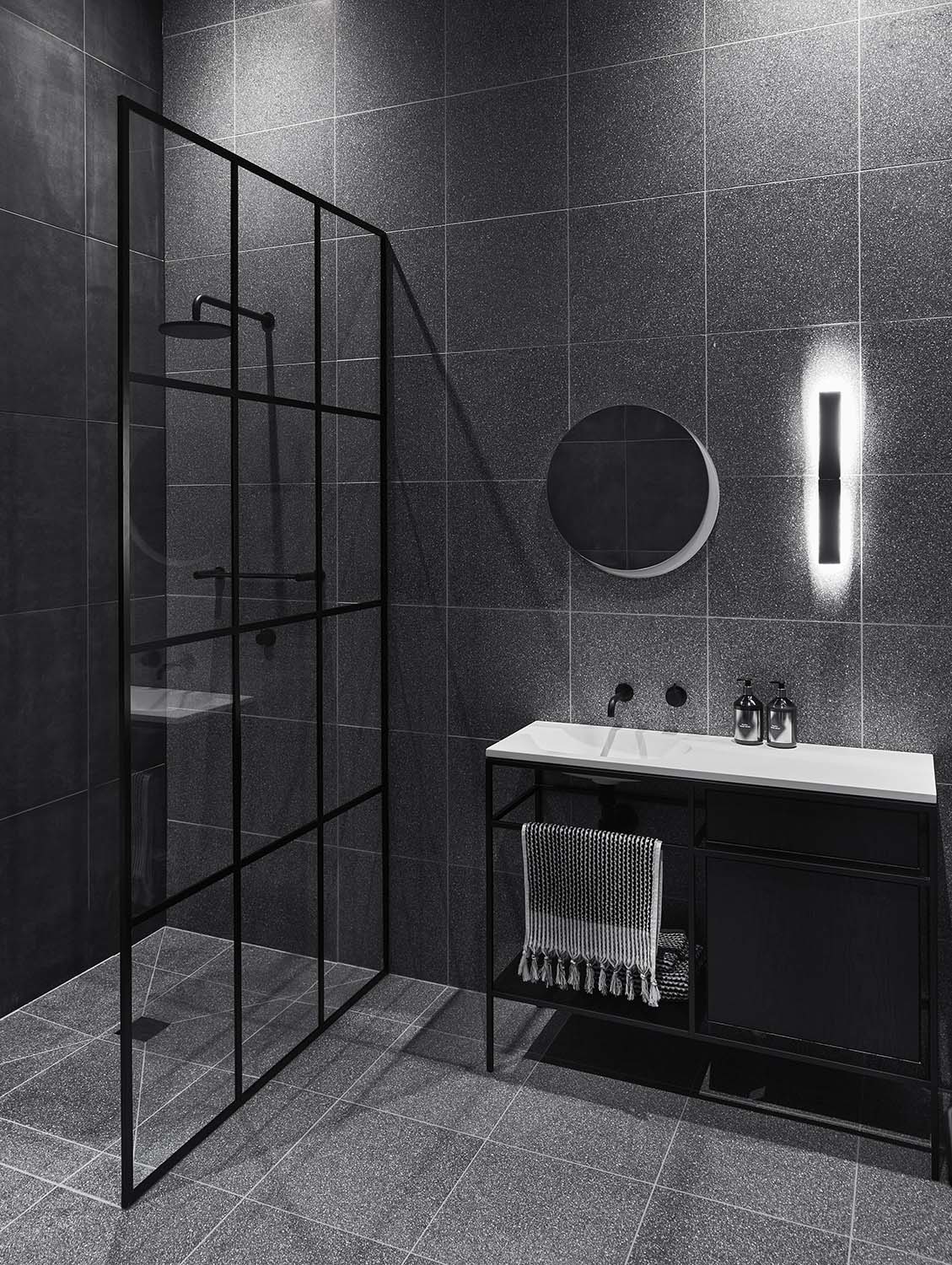 This gorgeous dark bathroom has a lot more black elements in the design. The black bathroom cabinet pairs perfectly with the black fixtures and fittings. The cottage pane glass shower screen adds interest and accents the light gray floor tiles. The mirror is lit by a single bathroom sconce, which provides the light needed.
Natural Light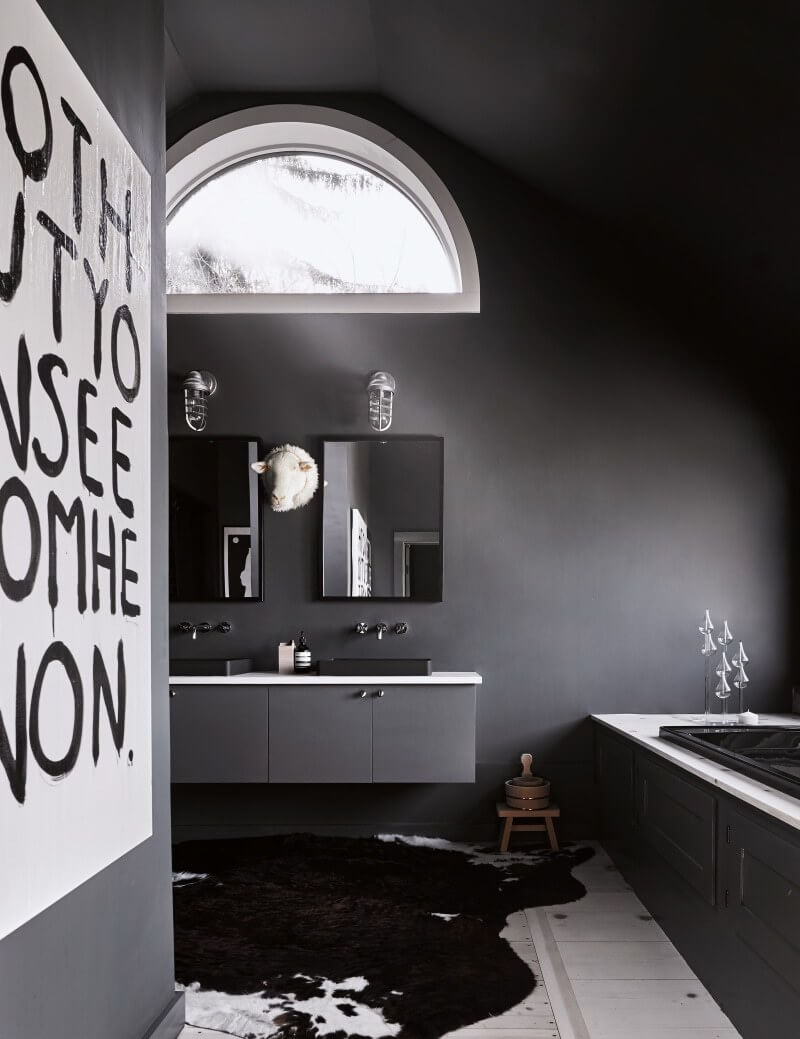 Gray walls combine well with gray bathroom vanities and the black bathtub, bathroom sinks, and mirror frames. The cowhide rug brings perfect contrast to the entire design and ties everything together well. A gorgeous window above the bathroom cabinets and mirrors bring light to the room, along with two bathroom sconces above the mirrors. The white accent wall with black graffiti adds an interesting twist to this beautiful bathroom.
Pin for when you need more black & gray bathroom ideas!
Marble Walls & Floor
The floor and wall tiles in this bathroom design blend perfectly into each other, creating an interesting effect in this gray and black bathroom! The tiles are accented by the black bathtub, toilets, window frames, and other accessories. The white accents break the dark feel of the room and add some contrast to the entire design.
Gray Walls with Black Accents
For a much lighter and brighter black and gray bathroom color scheme, why not try light gray walls accented by twin black wall accents on either side. The tiles on the back wall behind the mirrors by Fireclay Tile add texture and an amazing contrast to the bathroom. Overhead lighting brings more light into the room.
Shades of Gray Accent Wall
Another gorgeous example of a lighter gray and black bathroom color scheme is shown here. In this design, the gray walls and black accents contrast the stone floor tiles beautifully. The accent wall behind the sink adds interest and texture to the bathroom. These matte, non-reflective tiles can also be bought from Fireclay Tile.
Related Article: What Colors Go Well In A Gray Bathroom? 13 Gray Bathroom Ideas To Inspire You
Symmetrical Design
Black tiles accented against gray tiles are a beautiful combination, especially when paired with the freestanding white bathtub. This simple symmetrical design is completed with two bathroom sconces on each side of the bathtub for additional light and contrast.
Orange Accent Wall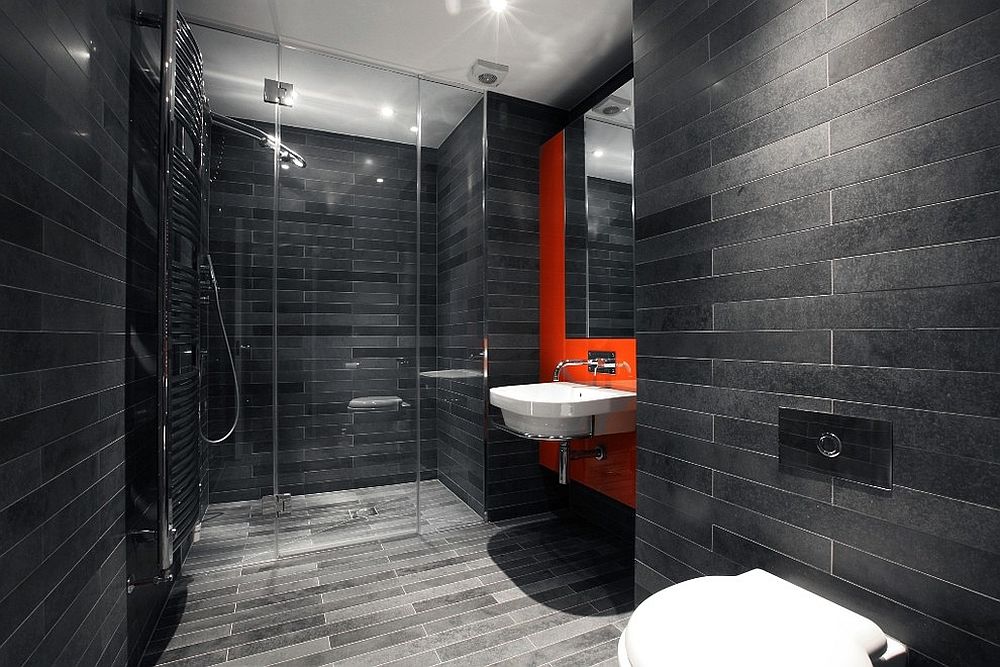 This slick and modern black and gray bathroom design incorporates a bright orange accent wall into the design! The wall not only creates interest but also breaks up what could otherwise have been quite a dark bathroom, especially considering there is no window for natural light. The light gray floor tiles and white toilet and basin also break the dark color.
Pitch Black Accent Wall
A freestanding white bathtub and window frame are heavily contrasted against a stunning black tiled wall. The gray tiles bring a softer contrast to the design and blends well with the silver fixtures.
Natural Textures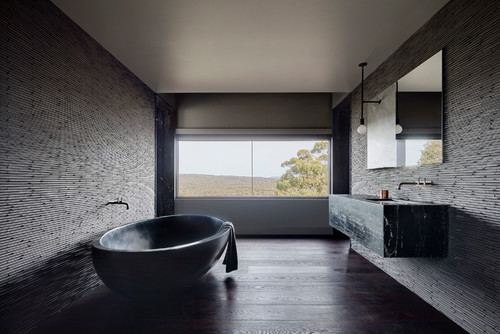 This minimalist bathroom design is brimming with natural light from the wide-open window at the back of the bathroom. A freestanding black bathtub is a gorgeous focal point in the bathroom, with the gray mosaic wall adding texture to the overall design.
Modern, Sleek Black and Gray Bathroom
A black bathroom cabinet is combined with a marble exterior in this modern, stylish black and gray bathroom. The backlit mirror and stunning light fitting add all the light the bathroom needs, especially with the dark vertical tiles on the wall.
Vintage Style Glamour
Super stylish design with a beautiful glossy black bathroom cabinet that is more like an antique piece rather than a traditional bathroom cabinet. The gray and white marble countertop pairs perfectly with it and brings together the gray walls and floor tiles. If you would like a little bit of vintage flair, then a beautiful, unique piece like this is just what you might need!
Clawfoot Bath With Bold Floor Tiles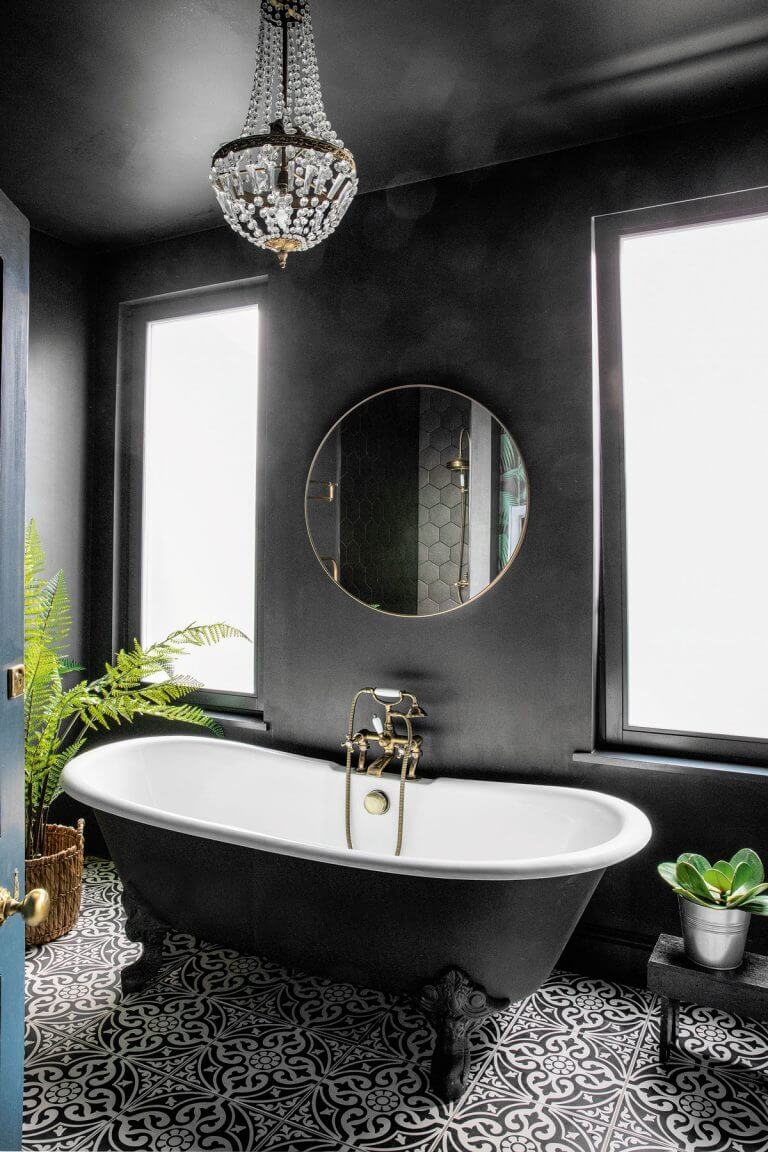 The black clawfoot bathtub with its beautiful brass-colored taps is the centerpiece for this gorgeous black and gray bathroom. The taps match perfectly with the mirror frame, which in turn blends in well with the fern basket, which adds a bit of contrast and texture to the design. The floor tiles are bold and create a stunning contrast with the tub. The matte grey walls and the chandelier add a bit of vintage charm to the bathroom.
Black Marble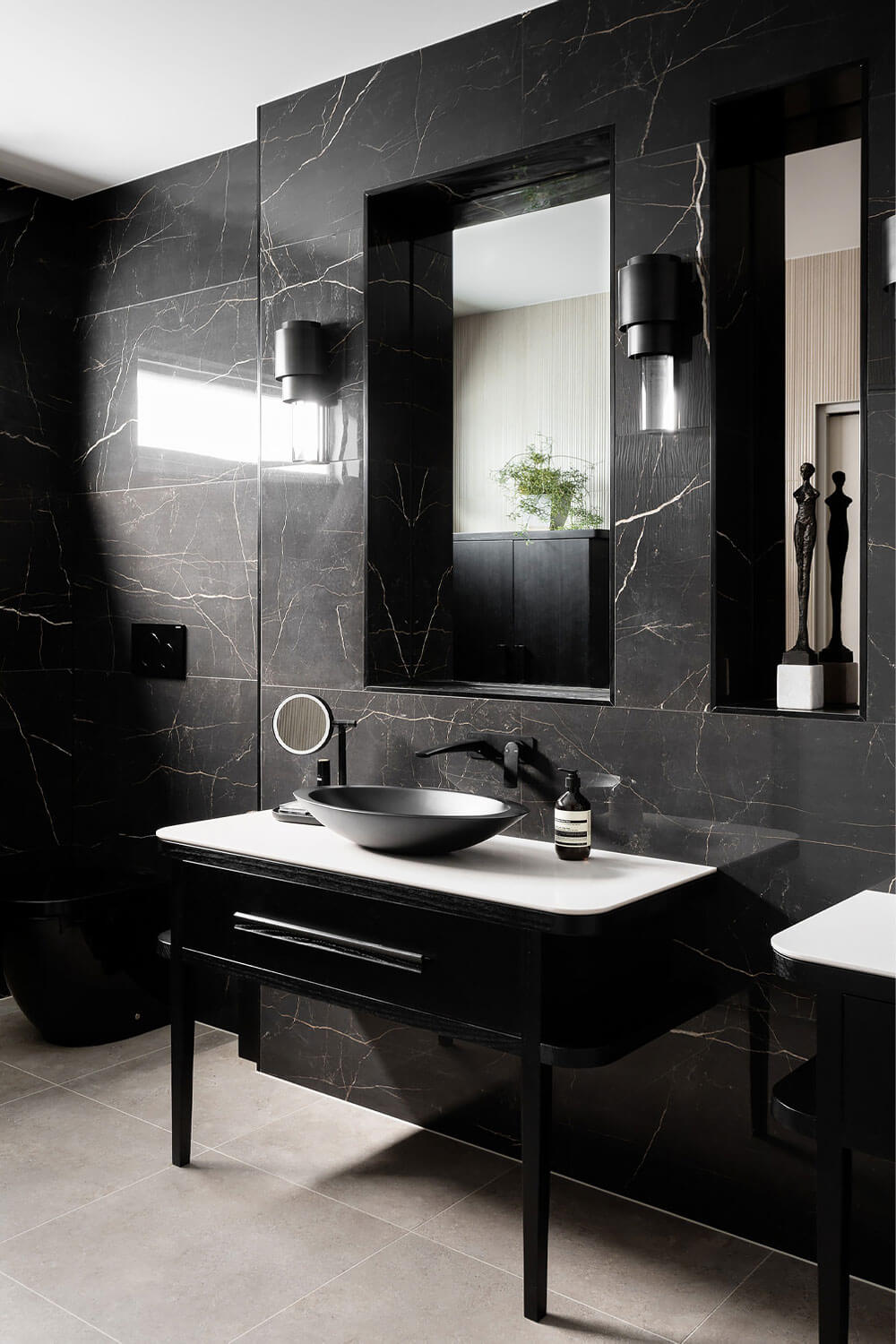 Sleek and modern black and grey bathroom design with gray wall tiles contrasts well with the bathroom cabinets and drawers. Again, a white countertop provides contrast to the design so that it isn't too dark. A black toilet is used in this design instead of the more traditional white toilet. Bathroom sconces are placed at the mirrors to provide extra light if needed.
White Accents
Black tiles are paired with a black toilet in this bathroom. Lighter gray tiles are used in the washroom area, and the lighter flooring adds some contrast to the design. A big mirror helps to make the bathroom look bigger.
Hexagonal Accent Wall
A gorgeous accent wall is created with black and white hexagon wall tiles, which are contrasted against the light gray marble floor and wall tiles. A big window lets in lots of natural light, and the wooden stool and plant bring a bit of color and texture to this black and gray bathroom.
Related: Color Palette Generator | Create Your Perfect Color Scheme From A Photo
Modern Industrial-Style Design
Black floor tiles, black ceiling tiles, and black wall tiles are contrasted against the light gray marble tiles on the wall. A concrete bath finishes the design off with hanging bathroom sconces, adding interest and light to the bathroom.
Conclusion
A black and gray bathroom might seem like a bold choice, but with the right styling, you can see just how well it can work! If you don't want a bathroom design that is too dark, then opt for lighter gray walls and floors with black accents. A black feature wall is also a great option.
If you love the look of a dark bathroom, then you can use dark fittings such as a black toilet, bathtub, bathroom vanity and taps. Lighting is an important feature in dark bathrooms, but there are many lighting options available if would like dark black and gray bathroom ideas.