When it comes to decorating your kids' bathroom, there are lots of ways to make it feel like a fun place to be. And creating a fun, colorful space for them to play doesn't have to be difficult! This article shares some of the best ideas we could find for using colors and patterns to make your kids' bathroom fun and interesting.
With each bathroom design, we have included a color palette to give you some color ideas on where to begin (each color's hex color value is also included). If you have a photo of a particular design that you love and would like to generate a color palette for it, then give our Color Palette Generator a try! When you use it, it is set to a default of 9 colors. However, you can choose how many colors you would like. Feel free to experiment!
And if all else fails, and you don't want to make permanent changes to the bathroom paint color, tiles, or fixtures, then why not try a colorful kid's shower curtain! We put together a bumper article on lots of different colors and designs to choose from. Find it here: 75+ Kids Shower Curtain Ideas for the Best, Most Colorful Kid's Bathrooms Ever!
Bright Accents
#FC6B3C
#9C2203
#F5BC26
#778E3C
#1772A9
#D4CCCA
Such a simple yet effective idea! A bright orange/red accent paint color is used in the nook behind the bathroom door. White shelves have then been installed to create a stark contrast against the accent color. The bright colors contrast beautifully against the white door, bath, and wall tiles. Bright and colorful towels and accessories are added to the design to make it even that much more bright and colorful!
Candy-Stripe Walls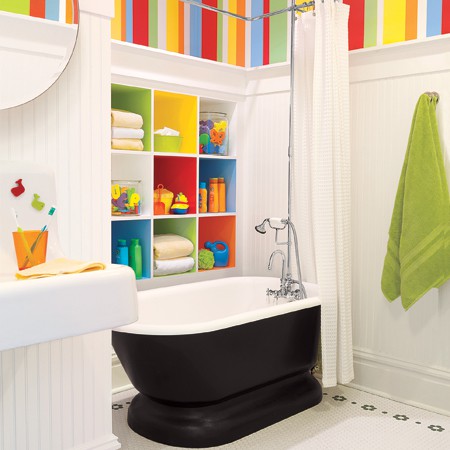 #8EA741
#B12224
#EFB723
#497999
#DAD0C1
This kids' bathroom's color scheme is very similar to the previous one, with the exception that each storage shelf is painted with a different bright accent color. These colors are carried through to the candy-stripe design that runs around the ceiling of the bathroom. All the bright colors are once again contrasted against the white walls and floor tiles.
Beautiful Blue
#7FAABA
#5185A2
#EECA6C
#DD8D31
You simply cannot go wrong pairing blues and yellows in a bathroom-especially when you have a kid who adores rubber ducks 🙂 Bright blue walls are contrasted against the white trim, while yellow accents are used to make the design beautifully bright! The basket and wooden floor bring texture and a feeling of warmth to this beautiful kid's bathroom.
Pretty in Pink
#D0849B
#C85D77
#841B17
#B2A8A7
A gorgeous bright pink design that is perfect for kids who adore pink and red! The design on the shower curtain is cleverly carried through to the bathroom vanity. Using red towels and other accessories brings a little bit of depth to the vibrant pink color.
Pin for when you need more colorful kid's bathroom ideas!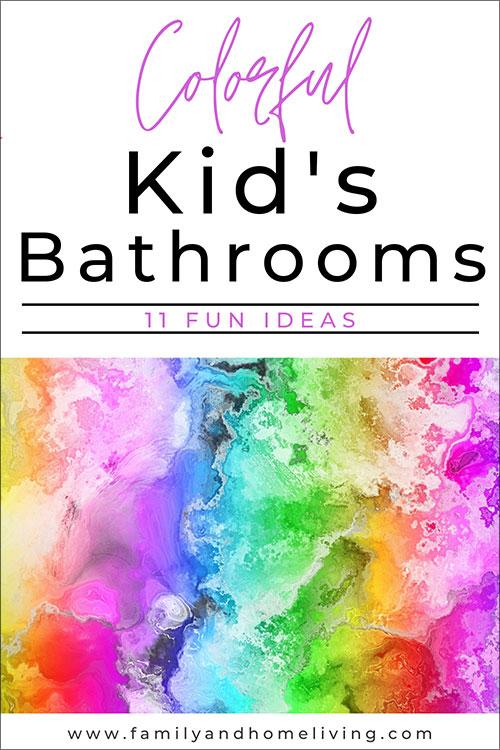 Gray and Orange Delight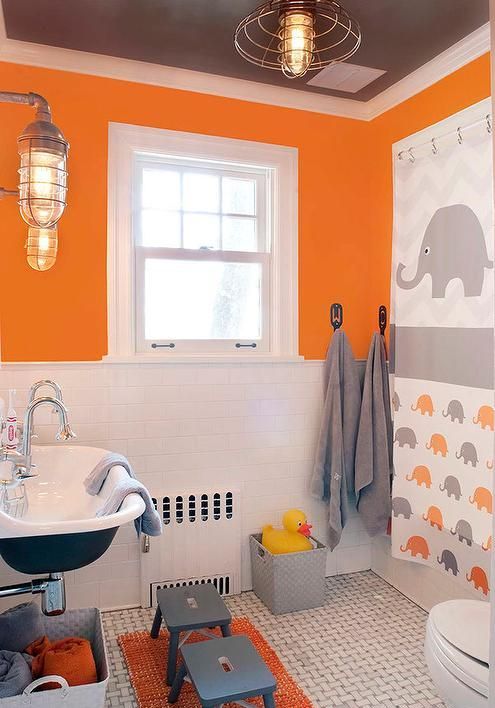 #B548220
#E76B21
#5F443B
#E3D4CD
#5F5D62
I personally love this design! The orange walls contrast beautifully against the gray ceiling, towels, stools, and other accessories. The gorgeous elephant-themed curtains blend in perfectly and bring a special charm to this kid's bathroom. Two cage-style bathroom sconces bring light to the bathroom along with a matching light fitting on the ceiling.
Bright and Breezy Greens and Blues
#E3E2B2
#C5C67C
#5A7F9A
#014880
#C70B3D
In this stunning kids bathroom, greens and blues blend beautifully, creating an awesome seaside vibe. White bathroom cabinets, white mirror frames, and a white bath and toilet help to bring out the vibrance in the colors. The basin backsplash tile design adds interest and depth to the design. The navy and red towels add a darker contrast to the design.
Rainbow Cabinets
#D13E46
#A0B76F
#0573AF
#EBECEE
Sometimes all that is needed is a little paint! The bathroom cabinets in this kids' bathroom have been painted with a bold striped design, bringing a bright splash of color to an otherwise very white bathroom! The best part is that it is easy to change the colors if the kids decide they would prefer a different color scheme in the future.
Nothing Permanant
#DDC455
#80B362
#5F849D
#C491A6
#9E4012
Sometimes you may want a colorful kid's bathroom but you don't want the commitment of painting or tiling in the bright colors. The solution? Add bright accessories to an otherwise plain colored bathroom. In this design, bright mats have been used to create big, colorful polka dots on the floor. Bright toys, towels, and other accessories have been added to add those extra splashes of color.
Go Bold or Go Home!
#C01412
#171C17
#2459A8
#E9D438
This really fun Sonic the Hedgehog design is bright, bold and not for anyone looking for cutesy kid's bathroom ideas 😉 Bright red, blue, yellow, and black are contrasted against the white tiles, creating a bold design that will inspire any kid who loves computer games.
Earthy Tones
#EAECEF
#066ABB
#3CA7D8
#838482
#827661
Another simple design that is really effective! Earthy-toned walls are contrasted against bright blue shower curtains. Big, bold and bright wall stickers round off the design, adding a unique touch of fun to the bathroom.
Soft and Sweet
#A28E78
#ACAA71
#C2C47F
#BBC2CC
#D1D4D9
#AAA9A4
Sometimes you might not want to go big, bright and bold. Instead, opt for something a little more soft. This gorgeous bathroom has a gentle, calming feel about it yet is still perfect for kids! Blues and greens blend beautifully together in a beautiful painted wall design that is definitely unique. Who said you only need one accent wall!
Conclusion
I hope you have enjoyed our small collection of colorful kids bathroom designs and I hope you will be able to use these ideas to help you turn your ordinary kids' bathroom into something special unique and special that your kids will love!