This post may contain affiliate links which means we might earn a small commission if you decide to make a purchase through them (at no extra cost to you). Need more info? Click Here
Beatrix Potter was born in England on the 28th of July 1866. She came from an upper-class family and was educated by governesses. Because she didn't go to school she spent most of her time with her younger brother Bertram. The two children had lots of pets and Beatrix developed a love of nature from a very young age. She also loved drawing and painting and in 1902 she self-published her very first Beatrix Potter children's book, The Tale of Peter Rabbit.
The Tale Of Peter Rabbit was a huge success and Beatrix ended up writing and publishing 22 more books which she beautifully illustrated herself. During that time she bought a farm called Hill Top Farm whose landscape was the inspiration for many of her books. Over time she purchased more farms and when she died she left most of her properties to the national trust and much of that land is now found in the Lake District National Park.
Beatrix Potter Books | PDF Downloads
All Beatrix Potter books are now in the public domain, so you are free to download and read them.
We have put together her books in PDF format so you can easily download and enjoy them with your children. They really are the perfect bedtime stories for toddlers and young children. And their gorgeous drawings and illustrations make them just that much more special!
Don't forget to check out our Brothers Grimm Fairy Tale Collection as well for more short stories for kids!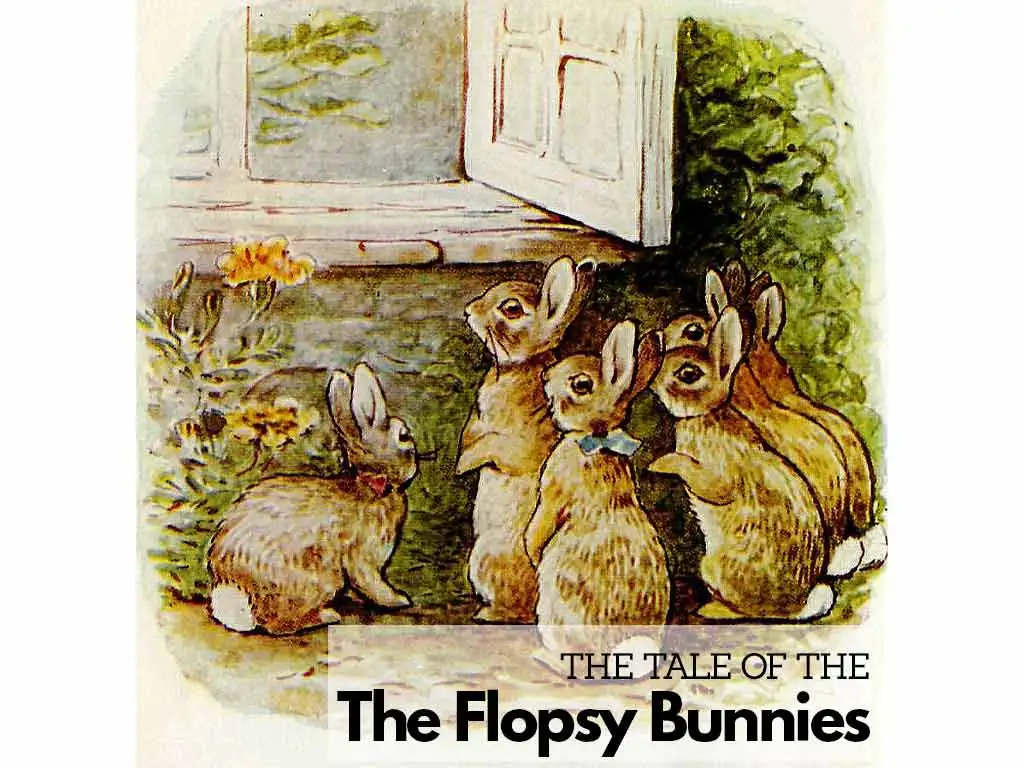 The Tale Of The Flopsy Bunnies was written by Beatrix Potter in 1909. Just like her other books, Beatrix potter illustrated this one herself, taking inspiration from her uncle's garden…
Beatrix Potter Q&A
How Much Was Beatrix Potter Worth When She Died?
It is estimated that Beatrix Potter was worth between $10 million when she died (about $20 million adjusted for inflation). Her wealth was built through the sale of her Beatrix Potter books as well as through merchandise.
Did Beatrix Potter Have any Children?
Beatrix Potter didn't have any children. Before moving to Hill Top Farm, Beatrix's parents had hoped that she would stay with them and look after their home and estate. She eventually ended up only getting married in her forties.
Although she didn't have any children of her own, she seemed to love children and her writing career began by writing letters to one of her former governess's children. Later in her life, it is also said that she was very fond of her husband's nieces.
How Old Was Beatrix Potter When she Died?
Beatrix Potter was 77 years old when she died in 1943. She died from Pneumonia and heart disease.
Who Inherited Beatrix Potter's Money?
When Beatrix Potter Died she left most of her money and her estate to the National Trust and a large portion of that land is now part of the Lake District National Park. After her death, Hill Top Farm was opened up to the public for visitors and a lot of her art was displayed there.
Was Beatrix Potter Happily Married?
It is said that Beatrix Potter was very happily married to her husband William Heelis and they were married for 30 years.
However, before Beatrix married William she was engaged to her publisher, Norman Warne. The two had worked together on Beatrix Potter's books and when she wrote A Tale Of Two Bad Mice, they became very close. Norman Warne proposed to Beatrix and she accepted to the dismay of her parents who believed Norman was of a lower social class.
However, before Beatrix and Norman could get married, Norman passed away unexpectedly. Beatrix was away at the time so she tragically couldn't say goodbye to him.
What Happened To Beatrix Potter's Brother?
Beatrix's brother, Bertram Potter, died in 1918 at the age of 46. Just like Beatrix, Bertram loved nature and living in the country. In 1902, Bertram married Mary Welsh Scott but the marriage was kept secret because his parents would never have approved. Just like Norman Warne, Beatrix Potter's fiancé, Mary was from a lower social class.
After a decade, Bertram finally told his parents and they were so unhappy with him that his father wrote him out of his will. Bertram died unexpectedly from a stroke in 1918.
Beatrix Potter Movies
In 2006, a movie by the name of Miss Potter was made about Beatrix Potter's life focusing on her relationship with Norman Warne. It starred Renée Zellweger as Beatrix Potter and Ewan McGregor as Norman Warne. Miss Potter received good reviews and Renée Zellweger was nominated for a Golden Globe Award.
Miss Potter (2006) | Official Trailer
What Order Should I Read The Beatrix Potter Books In?
There are 23 books in the Peter Rabbit Collection.
The Tale of Pigling Bland (1913)
Appley Dapply's Nursery Rhymes (1917)
Cecily Parsley's Nursery Rhymes (1922)
The Tale of Little Pig Robinson (1930)
Conclusion
Beatrix Potter books are a must-read, especially for families with young kids! So if you are looking for awesome bedtime stories or short stories for kids, you really can't go wrong with these. If your kids are still learning their ABCs, then shorter stories like The Story of a Fierce Bad Rabbit are a good option.