Beatrix Potter was born in England on the 28th of July 1866. She came from an upper-class family and was educated by governesses. Because she didn't go to school she spent most of her time with her younger brother Bertram. The two children had lots of pets and Beatrix developed a love of nature from a very young age. She also loved drawing and painting and in 1902 she self-published her very first Beatrix Potter children's book, The Tale of Peter Rabbit.
The Tale Of Peter Rabbit was a huge success and Beatrix ended up writing and publishing 22 more books which she beautifully illustrated herself. During that time she bought a farm called Hill Top Farm whose landscape was the inspiration for many of her books. Over time she purchased more farms and when she died she left most of her properties to the national trust and much of that land is now found in the Lake District National Park.
Beatrix Potter Books | PDF Downloads
All Beatrix Potter books are now in the public domain so you are free to download and read them. We have put together her books in PDF format so you can easily download and enjoy them with your children. They really are the perfect bedtime stories for toddlers and young children. And their gorgeous drawings and illustrations make them just that much more special!
THE TALE OF
PETER RABBIT
(1902)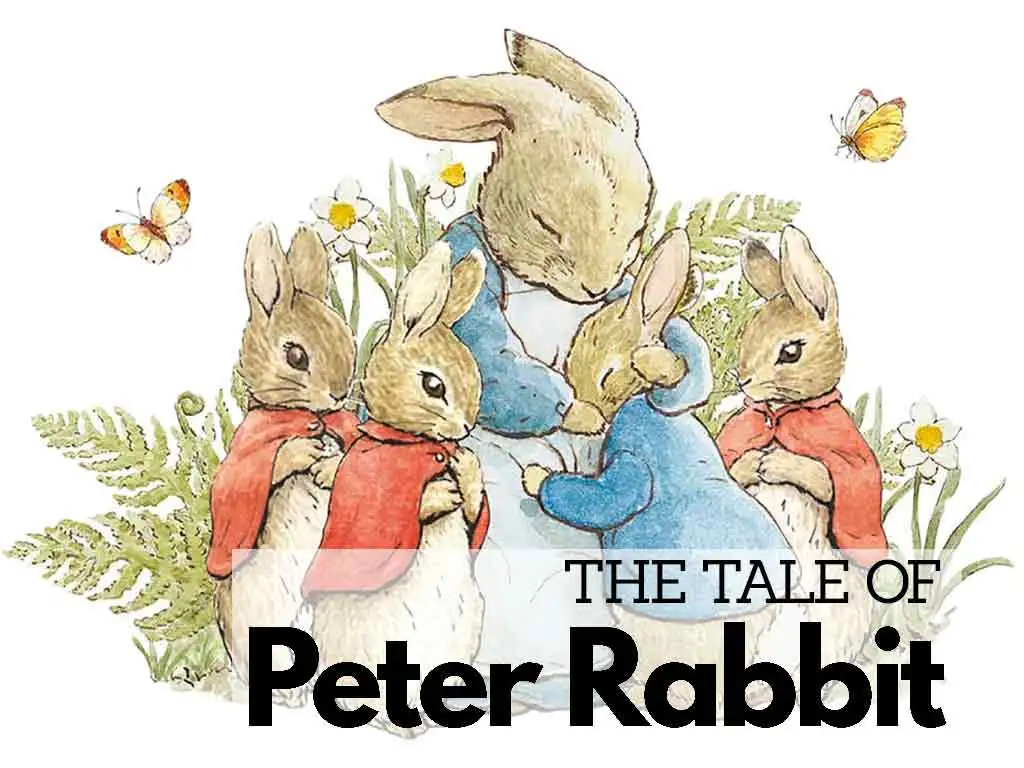 The Tale Of Peter Rabbit is one of the first Beatrix Potter books. It is also arguably one of her most famous! It tells the story of naughty Peter Rabbit who disobeys his mother and sneaks into Mr. McGregor's garden.
THE TALE OF
SQUIRREL NUTKIN
(1903)
The Tale of Squirrel Nutkin is the story of Peter Rabbit's friend Squirrel Nutkin. Squirrel Nutkin is a very naughty little squirrel who is rather cheeky and rather mischievous!
THE TAILOR OF
GLOUCESTER
(1903)
The Tailor Of Gloucester is Beatrix Potter's third book and it is said to have been one of her personal favorites. It is the story of a tailor who gets unexpected help from a very clever group of mice.
THE TALE OF
BENJAMIN BUNNY
(1904)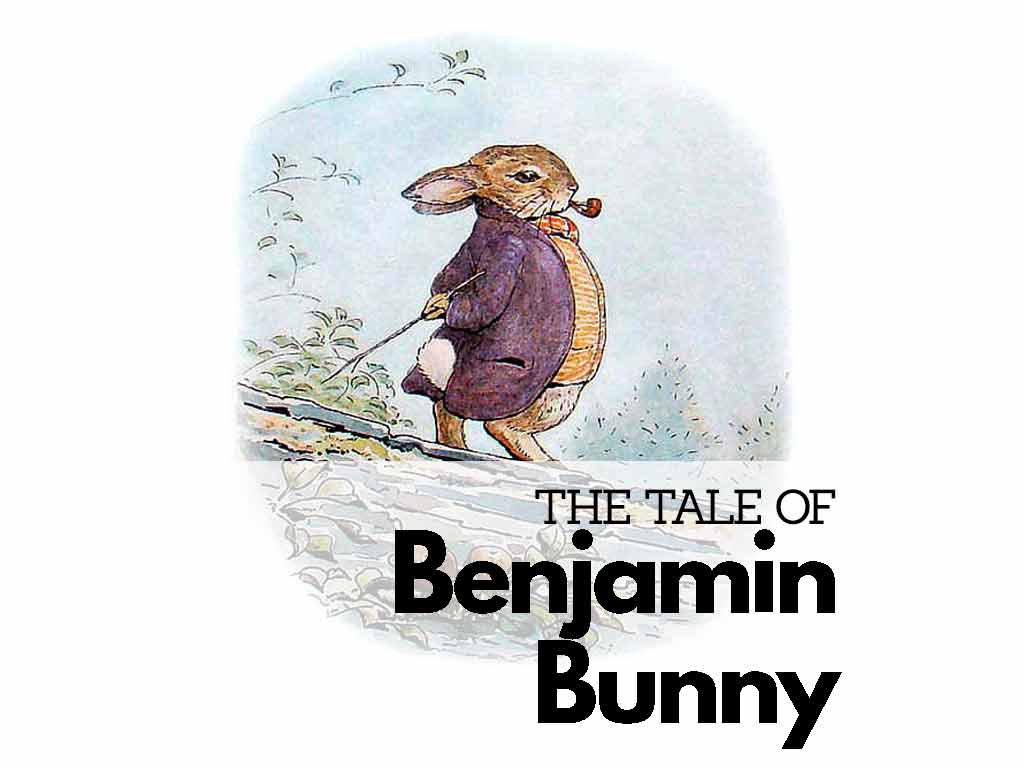 The Tale of Benjamin Bunny is the sequel to The Tale of Peter Rabbit. In this Beatrix Potter book, Peter and his cousin Benjamin, go back to Mr. McGregor's garden to try to find the clothes he lost.
THE TALE OF
TWO BAD MICE
(1904)
In the Tale of Two Bad Mice, two little mice by the names of Tom Thumb and Hunca Munca break into a dollhouse believing that the food inside the house is real.
THE TALE OF
MRS. TIGGY-WINKLE
(1905)
The Tale of Mrs. Tiggy-Winkle tells the story of a very kind hedgehog who helps a little girl by the name of Lucie find her handkerchiefs.
THE TALE OF
THE PIE & THE PATTY-PAN
(1905)
In The Tale of The Pie and The Patty-Pan, we meet a cat called Ribby and a dog called Duchess. Ribby invites Duchess for lunch but Duchess really doesn't like the idea of mouse pie!
THE TALE OF
MR. JEREMY FISHER
(1906)
Mr. Jeremy Fisher would like to invite his friends for lunch so he sets out on a fishing trip to try to catch some fish. It doesn't go as well as he had planned!
THE STORY OF A
FIERCE BAD RABBIT
(1906)
The Story of a Fierce Bad Rabbit is probably one of the shortest Beatrix Potter books and was written with very small children and toddlers in mind. See what happens when a mean rabbit bullies and steals from his friend.
THE STORY OF
MISS MOPPET
(1906)
The Story of Miss Moppet is another one of Beatrix Potter's books that is short and quick and it was also written with very small children and toddlers in mind.
THE TALE OF
TOM KITTEN
(1907)
The Tale of Tom Kitten follows the story of Tom Kitten and his sisters, Moppet and Mittens. Their mother is having a tea party and the naughty little kittens manage to get themselves into trouble before the guests arrive.
THE TALE OF
JEMIMA PUDDLE-DUCK
(1908)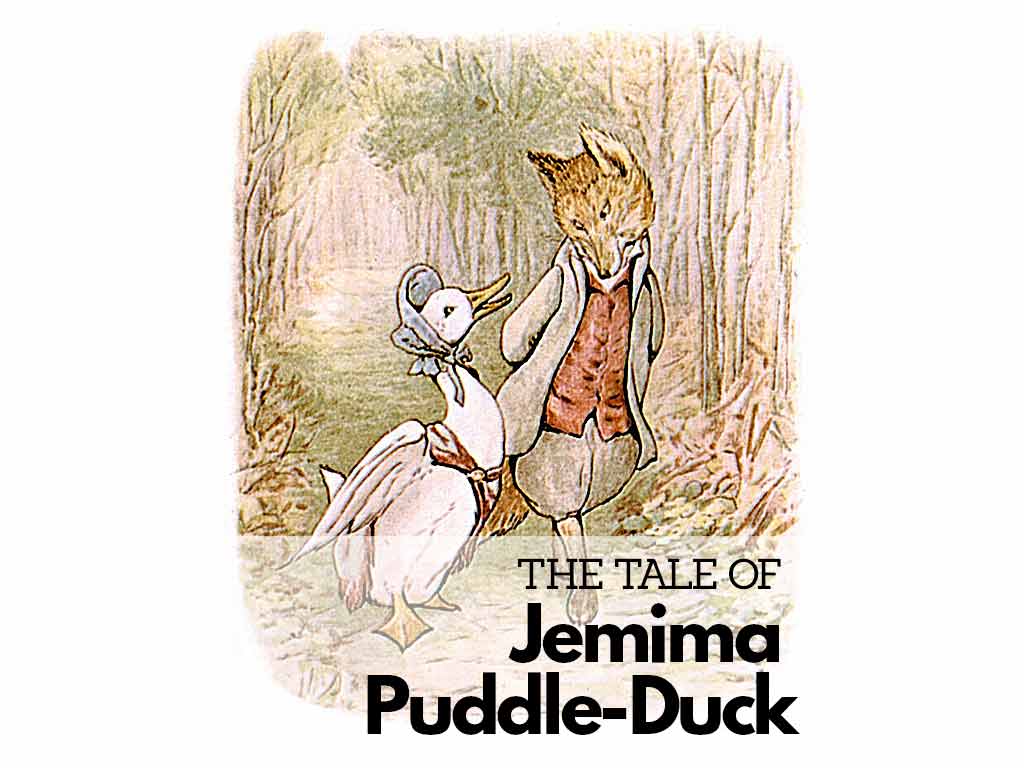 Jemima Puddle-Duck is really angry that the farmer's wife keeps stealing her eggs. She leaves the farm so that she can find a safe nest for them but she soon meets a stranger that is just a little bit too kind!
THE TALE OF
SAMUAL WHISKERS
(1908)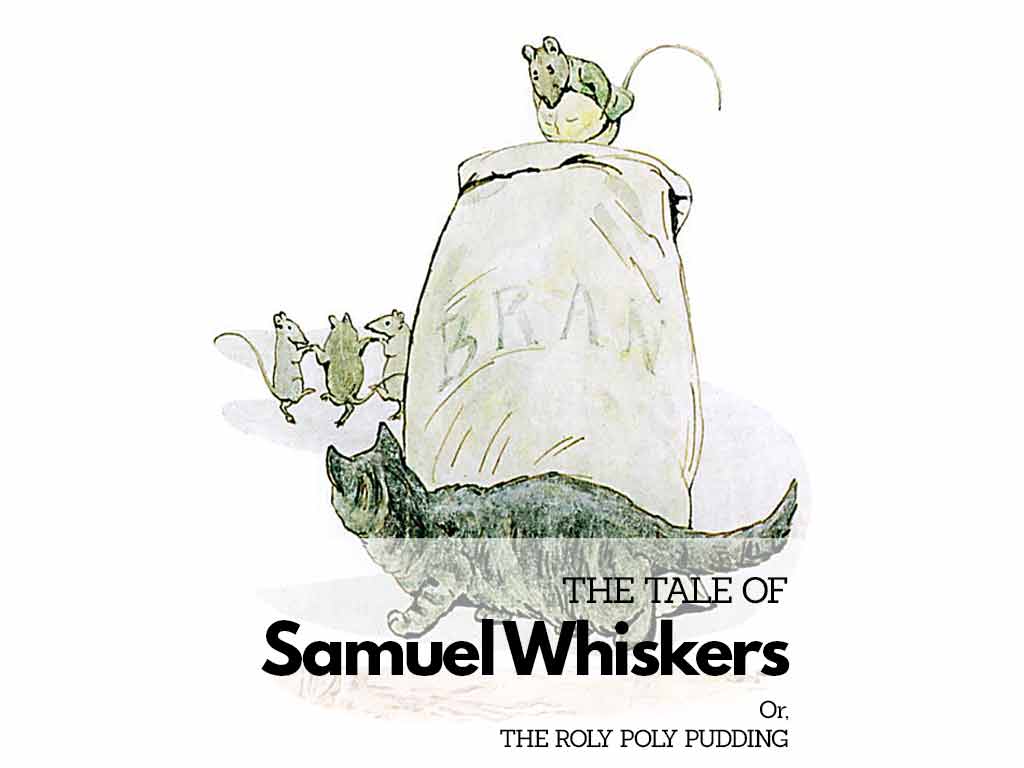 The Tale of Samuel Whiskers or, The Roly Poly Pudding, is the sequel to The Tale of Tom Kitten. Poor Tom is almost made into a pudding by Samuel Whiskers and his wife!
THE TALE OF
THE FLOPSY BUNNIES
(1909)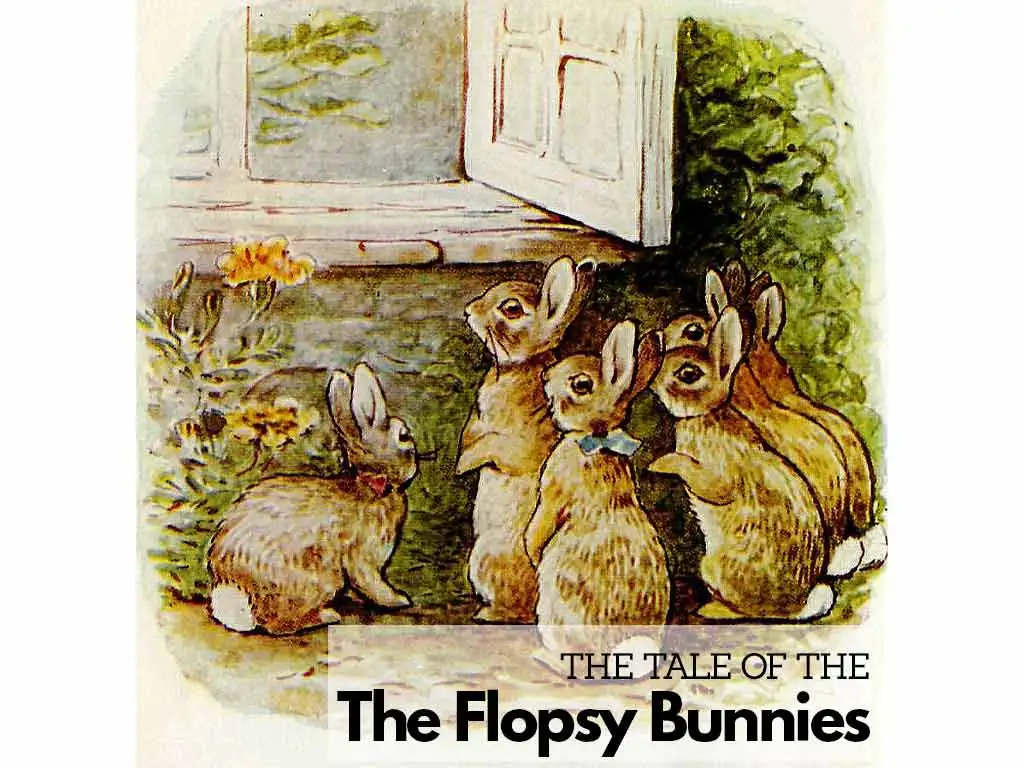 In The Tale of The Flopsy Bunnies, we meet Benjamin Bunny's children, simply called The Flopsy Bunnies. They also run into trouble in Mr. McGregor's garden just like Peter and Benjamin did when they were young.
THE TALE OF
GINGER & PICKLES
(1909)
Ginger and Pickles own a little shop in the village and all the animals buy their groceries there because Ginger and Pickles give unlimited credit! However it isn't long before the shop has to be closed!
THE TALE OF
MRS. TITTLEMOUSE
(1910)
We met Mrs. Tittlemouse in The Tale of The Flopsy Bunnies for the first time. Beatrix Potter decided to expand on her story by giving her her very own book.
THE TALE OF
TIMMY TIPTOES
(1911)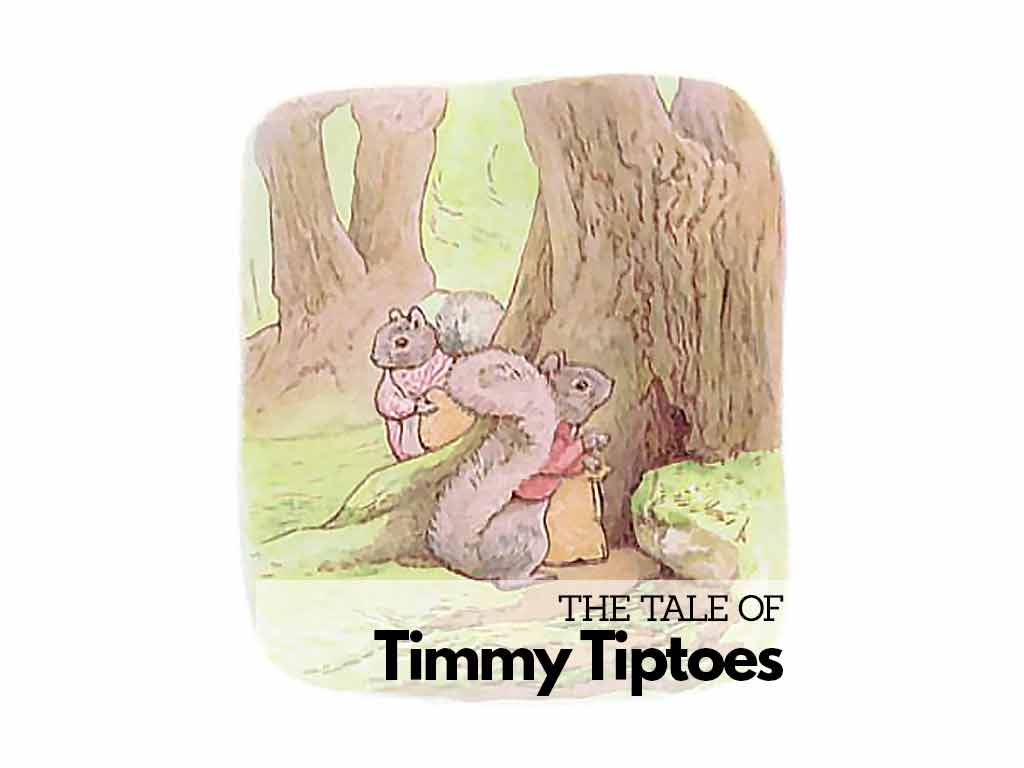 Timmy Tiptoes is a little squirrel who is storing up nuts for the winter. However, the other squirrels believe that he is a thief so they imprison him in a hollow tree.
THE TALE OF
MR. TOD
(1912)
In The Tale of Mr. Tod, Peter Rabbit and Benjamin Bunny have to rescue Benjamin's baby bunnies from a badger who has kidnapped them!
THE TALE OF
JOHNNY TOWN-MOUSE
(1918)
In The Tale of Johnny Town-Mouse, we meet a little country mouse by the name of Timmie Willie. Timmie ends up in the city after falling asleep in a vegetable hamper. He meets Johnny and the two become friends.
Beatrix Potter Q&A
How Much Was Beatrix Potter Worth When She Died?
It is estimated that Beatrix Potter was worth between $10 million when she died (about $20 million adjusted for inflation). Her wealth was built through the sale of her Beatrix Potter books as well as through merchandise.
Did Beatrix Potter Have any Children?
Beatrix Potter didn't have any children. Before moving to Hill Top Farm, Beatrix's parents had hoped that she would stay with them and look after their home and estate. She eventually ended up only getting married in her forties.
Although she didn't have any children of her own, she seemed to love children and her writing career began by writing letters to one of her former governess's children. Later in her life, it is also said that she was very fond of her husband's nieces.
How Old Was Beatrix Potter When she Died?
Beatrix Potter was 77 years old when she died in 1943. She died from Pneumonia and heart disease.
Who Inherited Beatrix Potter's Money?
When Beatrix Potter Died she left most of her money and her estate to the National Trust and a large portion of that land is now part of the Lake District National Park. After her death, Hill Top Farm was opened up to the public for visitors and a lot of her art was displayed there.
Was Beatrix Potter Happily Married?
It is said that Beatrix Potter was very happily married to her husband William Heelis and they were married for 30 years.
However, before Beatrix married William she was engaged to her publisher, Norman Warne. The two had worked together on Beatrix Potter's books and when she wrote A Tale Of Two Bad Mice, they became very close. Norman Warne proposed to Beatrix and she accepted to the dismay of her parents who believed Norman was of a lower social class.
However, before Beatrix and Norman could get married, Norman passed away unexpectedly. Beatrix was away at the time so she tragically couldn't say goodbye to him.
What Happened To Beatrix Potter's Brother?
Beatrix's brother, Bertram Potter, died in 1918 at the age of 46. Just like Beatrix, Bertram loved nature and living in the country. In 1902, Bertram married Mary Welsh Scott but the marriage was kept secret because his parents would never have approved. Just like Norman Warne, Beatrix Potter's fiancé, Mary was from a lower social class.
After a decade, Bertram finally told his parents and they were so unhappy with him that his father wrote him out of his will. Bertram died unexpectedly from a stroke in 1918.
Beatrix Potter Movies
In 2006, a movie by the name of Miss Potter was made about Beatrix Potter's life focusing on her relationship with Norman Warne. It starred Renée Zellweger as Beatrix Potter and Ewan McGregor as Norman Warne. Miss Potter received good reviews and Renée Zellweger was nominated for a Golden Globe Award.
Miss Potter (2006) | Official Trailer